Residency ​Program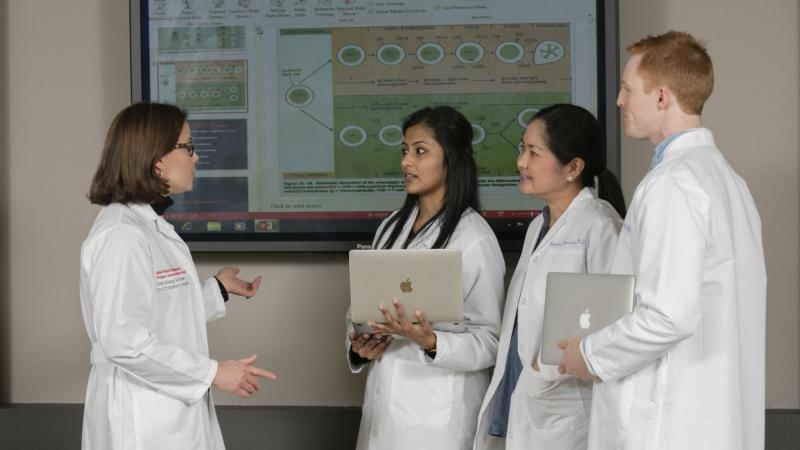 The NewYork-Presbyterian Hospital (NYPH)/Columbia University Irving Medical Center (CUIMC) offers a three–year residency program that provides a comprehensive experience in the diagnosis and treatment of skin disorders in both adults and children through clinical rotations at several NYP/CUIMC-affiliated hospitals. The principal institutions comprising the Department of Dermatology Residency Training Program include:
The Herbert Irving Center for Dermatology & Skin Care
NewYork-Presbyterian Milstein Pavillion
NewYork-Presbyterian Morgan Stanley Children's Hospital
NewYork-Presbyterian Allen Pavilion
James J. Peters Veteran's Administration Medical Center
The department also provides highly specialized services such as dermatopathology, Mohs micrographic surgery, cosmetic and laser surgery, pediatric dermatology, phototherapy, as well as access to dedicated clinics for cutaneous T-cell lymphomas, melanoma, patients post solid organ transplant and oncological patients on various chemo- and immunotherapies, vascular anomalies, epidermolysis bullosa and contact dermatitis.
The goal of the program is to provide the best possible teaching and training experience while excelling in patient care and research. We endeavor to provide our residents with an outstanding foundation on which to launch their medical careers. The residency program is designed for the physician who aspires to a career in academic dermatology and emphasizes those elements relevant to this career goal. Many of our former residents now hold faculty positions at various institutions throughout the country. We strive to continue to turn out the best academic and clinical dermatologists.
Candidates for certification by the American Board of Dermatology are required to have a total of four years of postgraduate training, therefore applicants are required to have completed one year post-graduate training in one of the following broad-based programs in the United States accredited by the Accreditation Council for Graduate Medical Education (ACGME) or a similar program in Canada accredited by the Royal College of Physicians and Surgeons of Canada:
A transitional year, or a preliminary year, or
A first-year residency in specialties such as internal medicine, general surgery, family practice, pediatrics, or emergency medicine
Each year 3 to 5 residents are appointed. Residents are appointed following their first post-graduate year.